We're having a busy fall here at CWILL BC! If you missed Word Vancouver Festival, not to worry, there are plenty more awesome events coming up:
Paper Covers Rock Festival, Saltspring Island
Join Jenn Wint for a free, drop-in children's storytime on Saturday, October 1 from 10-10:30 am at Salty Pear Gallery.
Visit the festival website for the full lineup.
---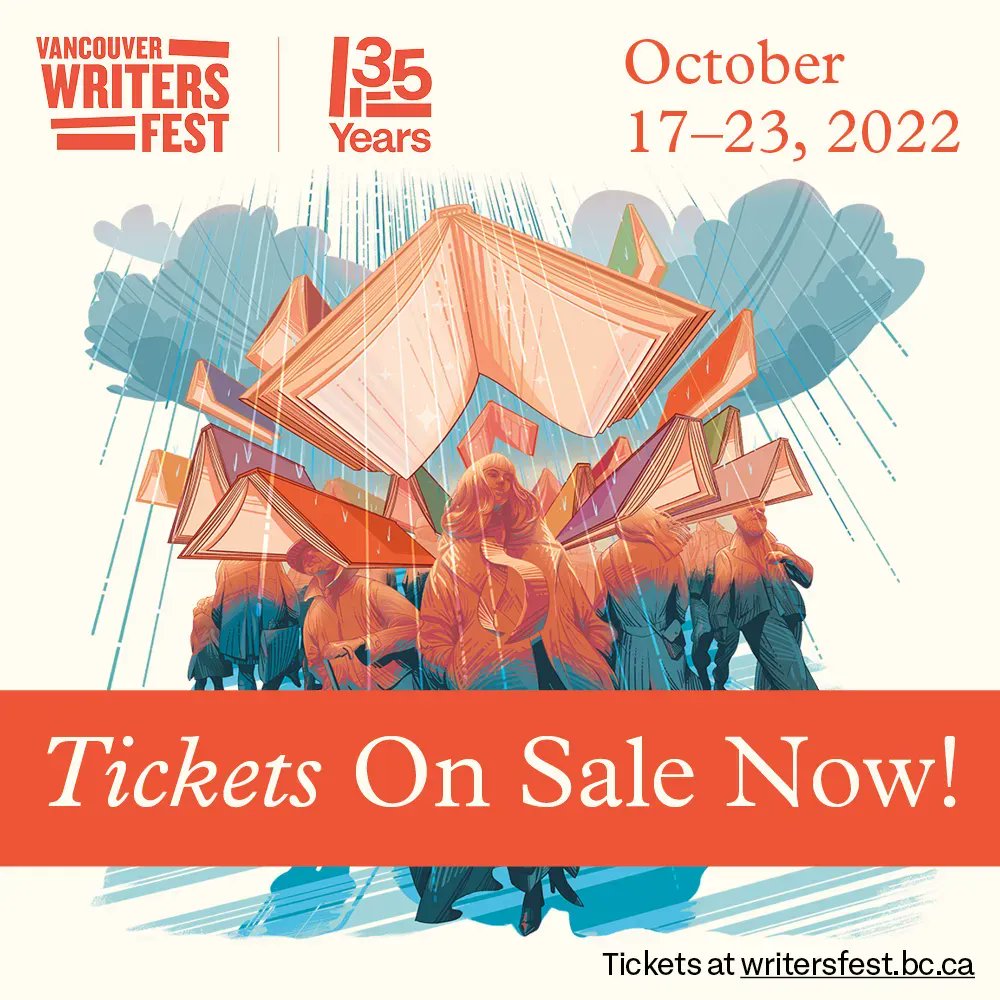 World-famous classical musician Glenn Gould loved playing the piano, and gave concerts all over the world—but he grew to dislike them. The hall was too cold, or he didn't feel well, or the audience made too much noise (he didn't even like their applause!). He discovered that when he played and recorded music in an empty concert hall, he could make it sound exactly the way he wanted. He could do what he loved best, while being completely himself. You could say he was As Glenn as Can Be.
GGBooks-winning author Sarah Ellis and illustrator Nancy Vo share more about this child prodigy—and why listening to yourself, accepting your differences, and expressing how you feel is important for every child. Grades 1–3.
---
Join us for storytime for little ones that centres on appreciating our natural world and making small changes to our life to care for the flora and fauna around us. Celebrated children's authors and friends, Tanya Lloyd Kyi and Kirsten Pendreigh, share their latest works in this light, nourishing event.
Kyi's Our Green City has been described as a "must-read primer for change" (Kirkus Reviews), offering a child-friendly tour around an ideal sustainable city. Former NPR and CBC journalist Pendreigh introduces a sweet, leafy companion in Luna's Green Pet. Here, a young girl, keen for a creature to care for, discovers a wilted plant she nurses back to health. Grades 1–3.
---
Can You Believe It? with Joyce Grant and Tanya Lloyd Kyi: 1 pm, Thursday, October 20 at Revue Stage and online
In a world of fake news, social media memes and algorithm-led gossip, how do you tell fact from fiction? Joyce Grant and Tanya Lloyd Kyi help students do just that in this timely, thought-provoking conversation.
Grant's book, Can You Believe It?, is the go-to resource for navigating what kids read on the internet, including practical advice on how to spot fact from fiction, and to know who`—and what— to trust. Kyi's Better Connected explores how kids can use social media to create positive change and practice good digital citizenship. Together, these two wise authors offer tips that will stand youth in good stead throughout their digital journeys. Grades 4–7.
---
Short Story Masters with Caroline Adderson, Jonathan Escoffery, Kim Fu and Alexander MacLeod: 5:30 pm, Thursday, October 20 at Revue Stage and online
Each of the collections shared by the authors in today's event thrum with imagination, tension, and poignancy. Together, the three writers on stage today have bylines in The New York Times, The Atlantic, Granta, Maclean's, The New Yorker, The Paris Review, and Electric Literature. Together, they probe themes interwoven in their works— themes of survival, belonging, identity, and navigating modern day tribulations of the Anthropocene.
PEN/Hemingway Award finalist Kim Fu's Lesser Known Monsters of the 21st Century is one of this year's hottest titles. Jonathan Escoffery's If I Survive You was described by Kirkus as "a sharp and inventive debut," while story veteran and Giller-finalist Alexander MacLeod shares Animal Person: Stories, another exceptional work, described by the New York Times as "exquisite." Moderated by Caroline Adderson.
---
Wry Humour for Modern Life with Caroline Adderson, Elif Batuman, Méira Cook and Claire Ross Dunn: 10 am, Friday, October 21 at Revue Stage and online
Sometimes it feels like it can't get much worse. But, amidst the rubble and the ashes, redemption, possibility, and even a little humour can be found—at least, that's certainly what these three novels suggest.
Pulitzer Prize-finalist Elif Batuman follows up The Idiot with Either/ Or. As the New York Times explains, "Batuman has a gift for making the universe seem, somehow, like the benevolent and witty literary seminar you wish it were." Joining her is Claire Ross Dunn, who has been compared to Mark Haddon, Miriam Toews, and Sally Rooney. She shares a laugh-out-loud tale, At Last Count. Méira Cook's The Full Catastrophe explores how Charlie Minkoff—a thirteen-year-old with intersex traits—navigates the difficulty of his life with wit and tenderness. In strange times, don't we all need the wisdom and humour these three writers offer? Moderated by Caroline Adderson.
---
BC Teacher-Librarians' Association Fall Conference, New Westminster
Join us for a fun and fast-paced workshop on BC-created books for kids! Expect three segments of approximately 20 minutes each:
We'll start with a brief overview of the power of (hyper-)local author engagement for young readers and highlight the free tools and resources offered by CWILL BC. This segment will include an introduction to working with local authors/illustrators, including best practices, inspiration, and funding sources.
Next up will be a multi-format presentation of recently released and upcoming BC books for ages pre-K to 18 by our members. We'll highlight 2021-2022 releases by topic (eco/climate, social justice, emotional/social), genre (spooky middle grade, funny early readers, accessible contemporary!), and age/grade-level collections in a mix of live book-talks, recordings, and static formats.
Finally, a CWILL author or illustrator will lead each small group discussion around two questions: what books do your students need (or need more of)? and what would a relevant story look like in your home community? This segment wraps up with open questions and knowledge-sharing for the final 5-10 minutes.
(Also find us in the exhibitors' hall with free bookmarks, select titles for sale, and epic giveaways you won't want to miss!)
---
Age is not all that changes when you're writing for young readers!
In this session we'll discuss the varieties of books available for young readers with a focus on fiction. Mahtab will share techniques for writing picture books, chapter books, middle-grade, and young adult novels. We'll do a deep dive into key elements of plot, character, conflicts, and the language acceptable for each age group so your books can make it past the gatekeepers and into the hands of your eager audiences.
---
Writing poetry to help express, explore, and honour grief and loss.
Loss is part of life, but in a society that's often uncomfortable with grief, there are challenges and obstacles to expressing and processing its difficult emotions. How do we move beyond the roadblocks? As writers, it's natural for us to turn to words as a way to explore, understand, and honour our losses – maybe even to heal our battered hearts. How do we begin? How can poetry help? How can we hope to capture new, foreign, and intense emotions when even words feel inadequate?
Using a simple approach to writing poetry, participants will learn to sift through the chaos of their thoughts and feelings to get to the heart of things. Workshop will include writing time. No experience with poetry needed.
---
Want to make your words sing? Award-winning author Darren Groth can help turn your one-note prose into beautiful music. In this lively and interactive workshop, Groth will explore examples of elegant writing in both literary and commercial works, provide the three 'A's of beautiful prose, and offer practical exercises to shape your words with style.
---
A trad-pubbed author's experience with indie-publishing. In this workshop, Mahtab Narsimhan will share how she published her first indie series and all the mistakes she made so that you can avoid them. She'll share resources she found helpful (and there are a lot out there) as you learn how to be your own publisher and take control of your writing career.
A wise person said: Indie publishing is a marathon, not a sprint. Rapid release can lead to rapid chaos. Mahtab will show you how to pace yourself and what not to do when you jump into the deep end!
Caveat: This workshop is not for the faint-hearted. Bring courage, a sense of humour, and a bath towel.
---
There are some books you just want to hug when you finish reading. These are books with heart, stories that cause all the feels and get shared (and hugged) until the covers are tattered. But what exactly is heart, and how do you create heart in your own manuscript? Workshop will include tips, techniques, examples from middle-grade novels, and brief writing exercises.
---
Putting your precious manuscript in the hands of beta readers can be a fraught exercise — how do you get the best feedback for yourself and your work? Award-winning author Darren Groth offers the two key considerations in choosing beta readers, outlines the importance of 'emotional specificity' in feedback discussions, and provides a practical guide for determining which feedback you should keep and which feedback you should discard.